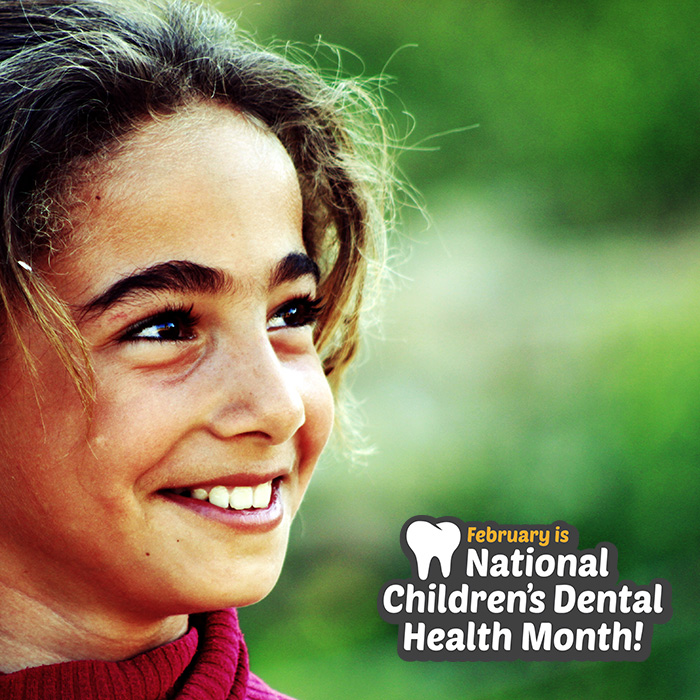 20 Feb

Children's Dental Health Month

THE CDC REPORTS THAT 1 in 5 children (between ages 5 and 11) in the US have untreated tooth decay. Not only should tooth decay be treated in regular dental appointments, but it should also be prevented! Tooth decay is 100 percent preventable with effective personal care and regular dental cleanings.
In honor of Children's Dental Health Month, we're spreading the word about children's dental health.

You Can Help Little Ones Have Healthier Smiles!

1. Encourage them to brush for two full minutes: Pick a song about two minutes long and sing it to them during brushing time.
2. Set reminders to brush twice a day: Brushing after breakfast and just before bed is the best times for preventing bacteria growth from food.
3. Show them flossing is fun, not harmful: Be gentle at first when doing it for them. A bad experience can stop them from flossing on their own.
4. Be persistent: Don't let fussy children off the hook. Be motivating! Kids may gladly brush for a sticker or star if you make it an activity.
5. Set their first dental appointment before age 1: Having positive dental experiences early will make dental visits easier and less frightening when older. Early dental visits are much more about parental suggestions and education as well as familiarity visits for the child more than an actual tooth cleaning visit. There's nothing that makes a filling easier than already having been to see the dentist for 8 cleanings BEFORE they have to come back for the "dreaded filling." I use a cat analogy. My cats know when I stuff them in the pet carrier to go to the vet they are going to be poked and prodded and get shots. That's why its so hard to get them in the pet carrier. The best way to make it easy for you to get your child to cleanings is to make sure their visits are regular before any problems occur. At the very least this habit allows the dentist to catch problems when they are very small and very easy to repair.
Help Us Spread The Word!
Share this message with your friends and family, and especially with the children in your life. If you have any questions about children's dental health, don't hesitate to ask us!

The content on this blog is not intended to be a substitute for professional medical advice, diagnosis, or treatment. Always seek the advice of qualified health providers with questions you may have regarding medical conditions.