Pawleys Island Dentists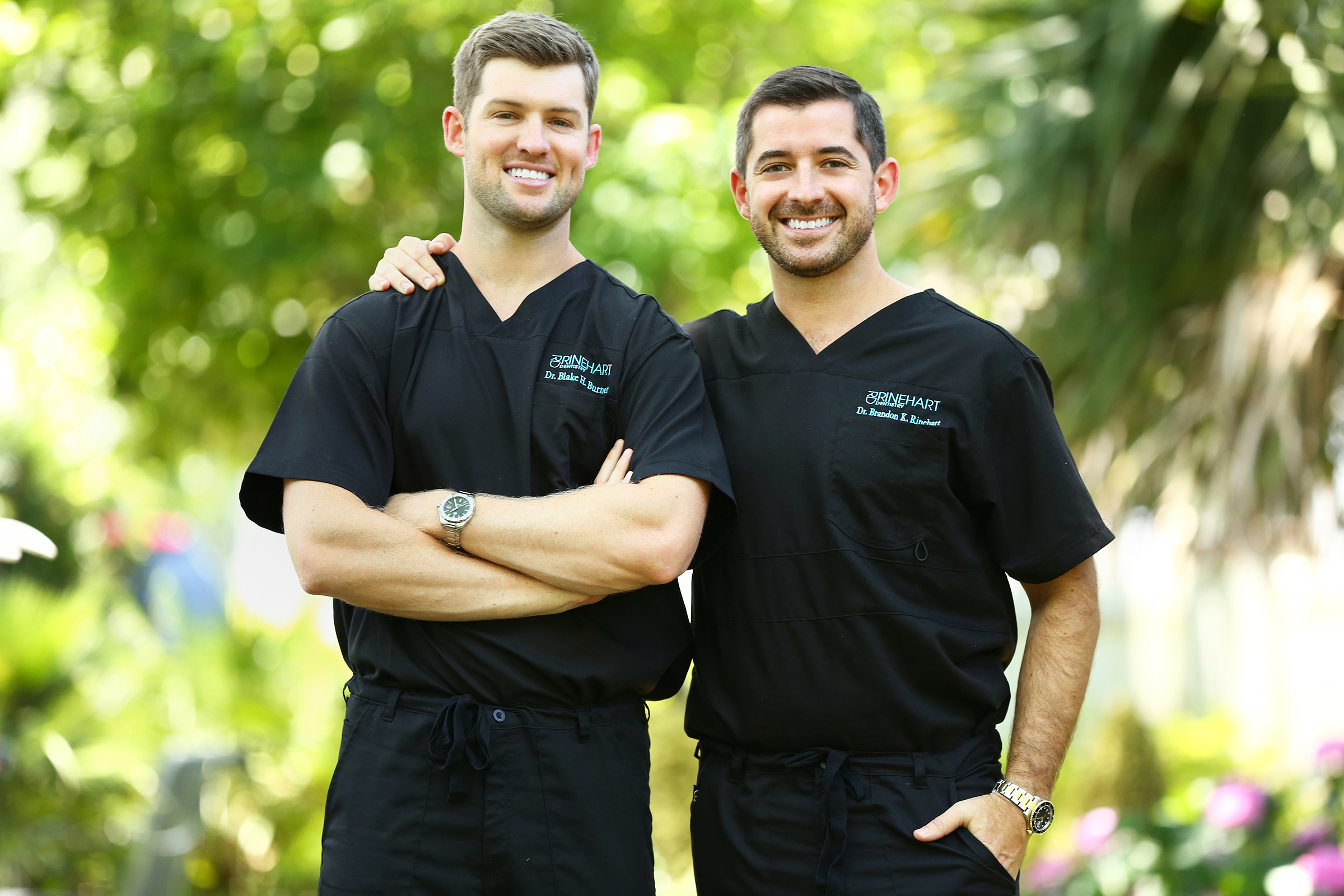 Whether you're looking for a new Pawleys Island dentist, or you just moved to the area and you're researching services offered and office locations, Rinehart Dentistry can meet your dental needs. From a routine teeth cleaning to more elevated dental care like dental implants, Dr. Brandon Rinehart and Dr. Blake Burnett and their team welcomes you with a warm smile, ensures you understand each step of the procedure, and you're comfortable during the entire procedure.
Here is a quick run-down of our Pawleys Island dental services. Of course, you can give us a call with questions about the procedures and payment options.
Routine Teeth Cleaning Pawleys Island
Regular teeth cleanings are necessary to avoid major dental problems. As you consider which dentist in Pawleys Island is best for your family, know that Dr. Rinehart and Dr. Burnett and their professional staff are prepared to help calm your nerves, offer several payment options, and of course, treat you like family. Our team is happy to answer your questions about dental care, create a plan for needed treatment and schedule your biannual routine cleaning appointment.
Pawleys Island Teeth Whitening
Many dentists in Pawleys Island offer teeth whitening services, but the Rinehart Dentistry office specializes in the KoR Whitening System, which works great for patients with sensitive teeth. KöR is an entire line of teeth whitening gels that are refrigerated from the day they're made until received by the dental practice. The constant refrigeration keeps the chemicals at their max level of effectiveness, creating a product that produces predictably whiter teeth.
Clear Braces in Pawleys Island
Rinehart Dentistry also offers clear braces. ClearCorrect is a form of dental braces that don't require wires, metal, or brackets. These clear custom aligners can straighten your teeth a little bit at a time.
Pawleys Island Crowns and Bridges
If you're in need of a dental crown or bridge from a Pawleys Island dentist, Dr. Burnett and Dr. Rinehart can complete the work. There are several options when it comes to material for your dental bridge or crown. Choose from porcelain, acrylic resin, gold, or a mix of these materials. A porcelain crown is the most popular choice as it has the most natural look.
Dental Extractions Pawleys Island
Tooth removal at a Pawleys Island dentist is easy with the professional staff at Rinehart Dentistry. Whether you need to have your wisdom teeth removed or a tooth removed due to decay or a dental emergency, the process is well explained and proper sedation and numbing medicines are used as needed.
Veneers In Pawleys Island
Dentists in Pawleys Island that offer veneers can use a number of materials. Rinehart Dentistry uses composite, porcelain, or monolithic ceramic. Finding a dentist in Pawleys Island that creates veneers is not difficult; just contact Rinehart Dentistry.
Dentures Pawleys Island
Dentures or partial dentures can be created from a number of materials. Dentures are used to replace missing teeth and make it possible to chew foods and offer a better appearance. Pawleys Island dentures are made from 3-layer, 5-layer, or porcelain teeth for those needing false teeth on the upper or lower arch.
Pawleys Island Dental Sedation
If going to the dentist makes you a little anxious, or if you've avoided going to a Pawleys Island dentist due to past experiences, allow the Rinehart Dentistry team to calm your nerves with dental sedation. Dental sedation is offered in three different ways at our Pawleys Island dental office. Based on your procedure, our dental team will determine if you need minimal, moderate, or deep sedation.
Dental Implants and Restoration Pawleys Island
When dental implants are needed, you want a Pawleys Island dentist you trust. This procedure calls for a titanium "root" device used to support dental restorations to replace missing teeth. Our Pawleys Island dental team uses a custom dental restoration to restore the function and integrity of missing tooth structure.
Operative Dentistry Pawleys Island
Pawleys Island operative dentistry corrects a number of dental situations, including repairs to missing or malformed portions of the teeth caused by tooth decay, trauma, discoloration or unusual development. From filling a cavity to fixing a chipped tooth, Rinehart Dentistry in Pawleys Island can help.
We are accepting new patients at our Pawleys Island dentist office. Stop by our Pawleys Island office today or call us today at 843.314.3935.